Bridesmaid hampers – a beautiful way to say thank you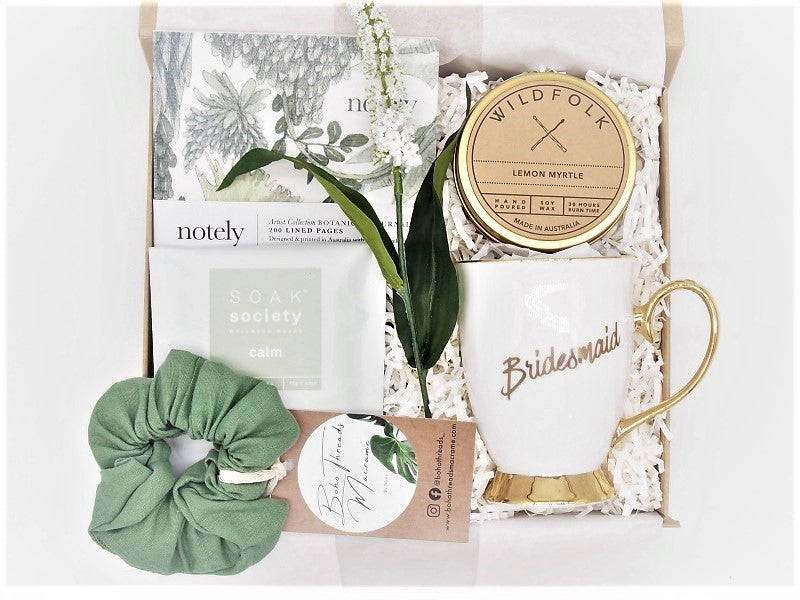 Wondering what to get your amazing bridesmaids and maid of honour to say thank you for supporting you, the radiant bride? Or are you thinking of a special way to ask your favourite ladies to be your bridesmaids? Then we have the ideal gift – bridesmaid hampers!
Why your bridesmaids and maid of honour deserve a gift
Your lovely maid of honour and bridesmaids will have their work cut out for them helping you plan your special day and Hen weekend over the coming months, so it's only fair that they get something special in return, because your ladies will be:
listening and attending to your every whim
keeping you calm when you're feeling overwhelmed
giving you honest opinions and solutions about everything and anything
planning your Hen party, so that you have one of the best times of your life
making sure that everything runs smoothly on your wedding day
offering you all their love and support
That's why you chose these incredible women!
Maid of honour and bridesmaid's gifts
Our bridesmaid hampers are the ideal gift to say thank you for their ongoing love and support. After all, where would you be without them?
We offer a beautiful selection of bridesmaids hampers that will appeal to a variety of personalities and tastes, including:
Be my Bridesmaid! Containing a Cristina Re bridesmaid mug, Notely Botanical journal, Calm Wellness face mask, Wildfolk candle and a Boho Threads Forest linen scrunchie.
I Can't Say I Do Without You! Containing Pomona signature pink mini gin, Dew Wellness face mask, Spa Light, Loco Love Wild Rose Ganache and Colour nail polish.
Double the Bubbles! Containing Moët & Chandon Piccolo, rose gold wine tumbler, Wildfolk gold travel candle, Lavette vintage rose wash cloths and Soak Society BathDew.
All our bridesmaids' hampers are personally hand wrapped and thoughtfully styled in sustainable packaging, packed full of goodies from local Noosa businesses.
Feel all warm and fuzzy when you see the smiles on everyone's faces after they receive their bridesmaid hamper!
Pick your perfect bridesmaid hamper